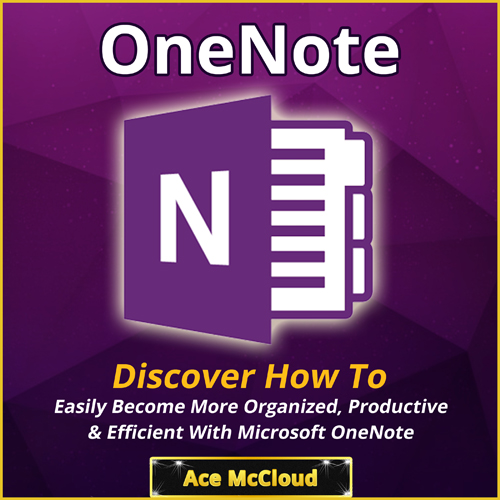 Are you overwhelmed by the chaos that surrounds you? Do you wish you had more productivity and peace of mind in your life?
Whether you want to (1) organize your life, (2) easily consolidate notes, ideas, documents, and images into one place, or (3) live happier and work more efficiently, then this is the book for you!
Tame the paper tiger and organize your digital environment.
Look no further than Microsoft OneNote to create order out of chaos. OneNote is an all-in-one digital notebook that can change the way you look at organization and can massively improve your levels of productivity and efficiency. This application is fully integrated with Microsoft Office, and in my opinion, it is one of the greatest software programs ever created. A friend of mine introduced me to OneNote three years ago and it has drastically changed my life for the better! I have my entire life and business organized on there and I use it every day without fail. Its power to transform your life for the better is truly immense!
Discover just how easy it is to use Microsoft OneNote.
As an application, OneNote is fully compatible with other Microsoft apps and it allows you to smoothly transfer information across platforms and access it from a variety of devices. Follow the provided step-by-step instructions to easily incorporate OneNote into your life. Included is a full list of commands and instructions for how best to use it to your advantage. OneNote is designed to facilitate efficiency and overall effectiveness into multiple aspects of your life. You can easily create checklists, keep track of your goals, and even create a place where you can journal every day. It can be linked easily to email and social media platforms and it can be made as big as you need it to be while still being easy to use.
Enter the electronic age.
Keep up with the pace of change and boost your creativity at the same time. Take notes in a way you've never seen before and integrate automatic file saving with advanced features that keep everything you want just a few clicks away. Learn how to hand-write notes, using a "Drawing" function. Then instantaneously convert them to text for sharing or storage. Use OneNote instead of a pile of spiral notebooks for academic subjects. Quickly take notes, draw tables, complete arithmetic equations, use scientific notation, and draw diagrams with ease. Easily insert information and shift notes around to accommodate your organizational structure. Easily import images and videos. Share notes with friends. All from the OneNote platform.
Enable teamwork.
Unprecedented document sharing and security provisions allow teams to share information and work together on projects. Teams can share their notes, including images, messages and videos, all in one place. At the same time, you can easily cordon off private portions of your notebooks by attaching password protection.
What Will You Learn About OneNote?
A full explanation of all the best features of Microsoft OneNote and how to use them.
How to easily create multiple notebooks to help you organize each area of your life.
You'll see how to insert screen shots, links, audio, video and more into OneNote.
How to use linked notes and how to sync OneNote with your other devices.
Advanced tips for experienced users.
You Will Also Discover:
How to easily organize, bookmark, and share your notes with others.
How to convert handwritten notes to text.
Powerful strategies to make your life easier and more productive.
How OneNote gives you the edge in life and business.
Experience the true power of Microsoft OneNote.
Take control: Buy It Now!