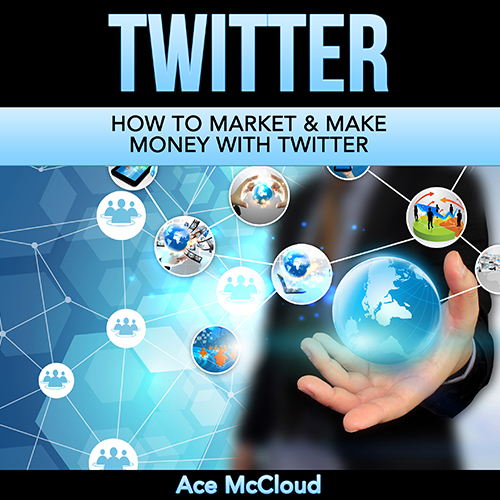 Would you like to be a pro with Twitter? Do you wish you could make some real money with Twitter like everyone else is?
Whether you want to (1) know how to optimize your twitter account, (2) know how to build up your fan base the right way, or (3) market with twitter to boost sales and make money, then this is the book for you!
Easily cut through the confusion to increase profits.
While it may appear innocuous, with its innocent blue bird for an icon, Twitter is a social media powerhouse with the potential to place your ideas and products in front of millions upon millions of people. Learn just how easy it is to master Twitter, gain followers, make money, and automate the whole process.
Take your marketing to the next level.
Increasing your following on Twitter can boost your potential success greatly, then all you have to do is market to your audience the right way.That is what you will learn in this book. Step by step strategies for getting more followers daily along with marketing strategies that the biggest corporations in the world regularly use.
Discover the amazing effectiveness of hashtags.
Hashtags are the most powerful way to easily and simply acquire loyal followers. There is almost nothing in the world that can match hashtags for effectiveness. With a few well-placed hashtags, you can raise a tweet from great to fantastic, gaining key followers and driving traffic to your moneymaking site. Hashtags are searchable keywords that indicate trending topics that may be used to narrow down a search to reach and speak effectively to your core audience. I provide real-life examples and valuable tips so you can optimize your hashtag usage. You will be able to use these tips to individually focus on key segments of the population and target specific groups with tweets tailored to speak directly to their needs and interests.
Expand your core audience with Twitter.
The most wonderful thing about Twitter is how easily you can attract people to your business platform and you can do it all in a variety of extremely effective ways. This effect, compounded over time, is what makes Twitter so powerful. Each year that goes by, the bigger and more effective your account will become.
What will you learn about Twitter?
The unbelievable power of Twitter and how to use it to your advantage.
How to optimize your account, making it appealing and highly informative.
How to write the perfectly structured tweet.
Strategies for engaging your audience through compelling and interesting tweets.
How to use multiple Twitter accounts to drive traffic and boost sales.
You Will Also Discover:
The best third party programs to really make the most out of Twitter.
How to market and make money with Twitter.
The three basic tweets and how to use them to your advantage.
Six steps to develop a winning Twitter marketing action plan.
Bring your product, business, and ideas to the world!
Get in the game: Buy It Now!