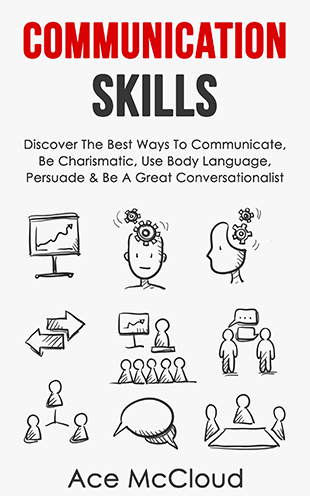 Do you feel inadequate when it comes to communicating with others?
Whether you want to (1) communicate clearly (2) master the art of persuasion, or (3) just be more liked and respected, this is the book for you.
Do you dread social conversations?
You can learn to communicate calmly, confidently and easily. This is where the true power of communication shows up most clearly. As you learn to take the conversational initiative, you will see your influence and enjoyment increase!
Use body language to set others at ease.
Learn the four easy physical cues that you can use to subconsciously build trust among other people. You will also discover the power of appropriate touch and how to use it for maximum effectiveness.
Banish the fear of speaking to others.
Learn how to turn nervous jitters to your advantage and discover specific strategies that you can use to enter a stressful situation without anxiety.
What Will You Learn About Communication?
How to start – and end – a conversation.
How silence can strengthen your message.
The five most important communication styles.
The contagious power of laughter.
How to adjust your communication style to meet the needs of your audience.
You Will Also Discover:
How to arm yourself with great conversation starters.
How to build rapport with others.
How to turn yourself into a charismatic communicator.
How to leave a great impression every time.
Increase your charisma by bringing joy to others.
You don't have to be an extrovert to have charisma.There are specific steps you can take to boost your personal attractiveness. Learn how you can light up those around you, and do it in the best possible way, by being yourself!
Life is so much better when you are communicating effectively.
Buy It Now!