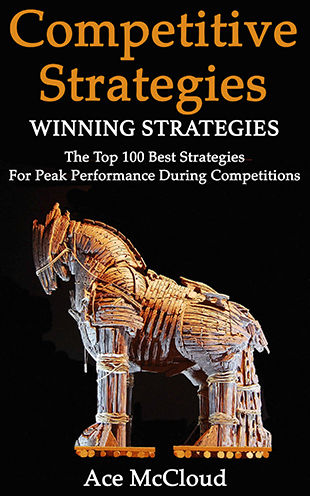 Are you tired of losing? Do you wish you knew what to do in those critical situations?
Whether you want to (1) blow the competition out of the water, (2) boost your confidence, or just (3) start winning more often, this book will get you there.
Do you find it hard to think of yourself as a winner?
Even successful athletes can struggle with blows to their self-confidence. Learn proven strategies that can help you confidently make the right decisions when it counts!
Develop winning habits that are proven to succeed.
Discover the empowering force of good habits, proper training and positive affirmations to compete well when the time comes.
Fuel your competitive passion.
Organize your life for peak competitive performance . Learn how to identify and remove negative influences and replace them with positive alternatives. Discover how to eliminate negative self talk and program your mind to expect success.
What Will You Learn About Competitive Strategies?
How to be calm and relaxed in key situations.
How to use the excitement of competition to help you perform better.
Powerful mental strategies for keeping your head in the game at all times.
The proper way to use goal-setting.
How to model the tactics of the experts.
You Will Also Discover:
The key strategies that all winners have in common.
How to compete effectively under all types of different circumstances.
How to train properly for competition.
How to make a masterful plan of action for peak performance success.
Are you ready to start feeling the joy of victory on a consistent basis?
In the following pages you will learn how to identify and remove hindrances that may stand in your way and how to stride into each challenge with confidence and a strong desire to compete at your highest level.
Increase your winning percentages!
Give yourself the competitive advantage: Buy It Now!