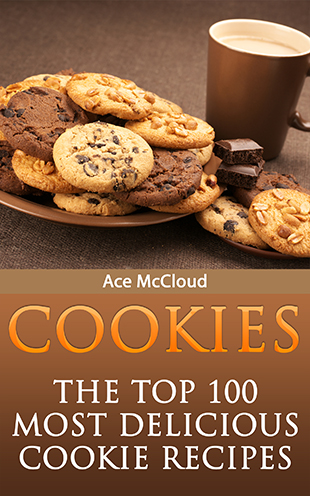 Are you tired of buying expensive cookies filled with additives and preservatives? Would you love delicious home cooked cookies straight out of the oven?
Whether you want to (1) discover the top 100 most delicious cookie recipes, (2) be the hero who brings the joy of fresh baked cookies into the world, or (3) have delicious home baked cookies anytime you want, then this is the book for you!
Tired of baking the same old cookies?
In this cookie recipe book you will find plenty of opportunities to experience the breadth of variety available with cookies. The cookie is easily dressed up or down. I've included recipes appropriate for any level of formality, from the most delicate lace to the sturdiest travel fare. If it's a special occasion, make the cookies special, the results will be sure to add fresh glamour to the event. If you're throwing a party, make the cookies something worth writing home about!
Try different kinds of cookies.
If your go-to recipe is a drop cookie (and whose isn't?), try making bar cookies instead. They're even simpler to make than drop cookies! Rolled cookies can add a little pizzazz to your dessert tray without entailing much extra effort. If children are there, let them help decorate cutout cookies or spoon out no-bake cookies onto wax paper to cool.
Experiment with unique ingredients.
Most cookies will tolerate any number of additions, so feel free to play with them and try out new flavor and texture combinations. If you're used to making basic brownies for your crowd, try making lemon bars for a change. Sandwich cookies are a creative paradise, because you can introduce any number of flavor and color variations. Likewise, oatmeal cookies taste great with any number of ingredients added to them.
Learn how to make your favorite store-bought cookie yourself.
I've already mentioned sandwich cookies; the ones you make at home are healthier because they lack the preservatives that are added to the store-bought variety. If you like ginger snaps, you can easily make your own. The same goes for snicker doodles, macaroons, oatmeal drop cookies, and chocolate chip cookies. Prefer your cookies crunchy? Then make them crunchy. Prefer them chewy? Make them according to your own liking.
What will you learn about making cookies?
The best techniques for preparing each type of cookie.
The tools that are essential to every cookie baker.
How to make a variety of bar cookies for your eating enjoyment.
World class drop cookie recipes.
How to make rolled and cut-out cookies that the whole family can help with.
How to make intricate filled cookies and delicious sandwich cookies.
You Will Also Discover:
Cookies that look like tiny peaches or miniature fruit pies.
Delicious no-bake cookies you won't need an oven for.
Cookies for every occasion, including recipes reserved for specific holidays.
The best cookie recipes from around the world.
Enjoy life and bring more joy into the world!
Get the best cookie recipes: Buy It Now!