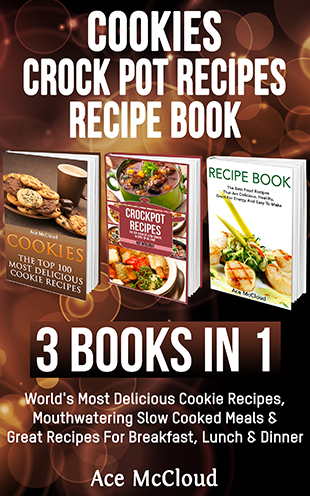 Would you love some delicious home baked cookies straight out of the oven? How about a variety delicious and healthy meals with little effort?
3 Books in 1: An unbeatable combination of the best cookie recipes, Crock-Pot recipes, and delicious food recipes!
Whether you want to (1) enjoy delicious home-baked cookies any time you want, (2) create delicious slow cooked meals with little effort, or (3) enjoy healthier and more nutritious food at a lower cost, then this book will teach you everything you need to know.
Bring the joy of fresh-baked cookies into the world!
Enjoy delicious home-baked cookies any time you want. Explore cookie varieties appropriate for any level of formality, from the most delicate lace to the most decadent chocolate chip cookies. Try different kinds of cookies and experiment with unique ingredients from around the world.
What Will You Learn About Baking Cookies?
The best techniques for preparing each type of cookie.
The tools that are essential to every cookie baker.
How to make a variety of bar cookies for your eating enjoyment.
World class drop cookie recipes.
How to make rolled and cut-out cookies that the whole family will love.
How to make intricate filled cookies and delicious sandwich cookies.
Cookies that look like tiny peaches or miniature fruit pies.
Delicious no-bake cookies you won't need an oven for.
Cookies for every occasion, including recipes reserved for holidays.
Cook for tenderness and flavor!
Discover the secret for delicious meals: a sustained low cooking temperature and a sealed environment. The latter preserves all the delicious flavor and the former breaks down even the toughest fibers until they melt in your mouth! Once you've placed the ingredients into the ceramic slow cooker and set the lid in place, the Crock-Pot does all the work. Come back hours later to an instant meal, ready to dish up and enjoy.
What Will You Discover About Crock-Pot Recipes?
Recipes for beef and lamb.
Sumptuous breakfast and lunch meals.
Delicious seafood dishes.
Yummy chicken and pork recipes.
Mouth-watering recipes for soups and stews.
Healthy vegetarian recipes.
Perfect pasta recipes.
The best dinner recipes.
Delicious dessert recipes.
Jump off the highly-processed food treadmill!
You can easily prepare a variety of incredible recipes from natural food sources. I have chosen the recipes that are the most delicious, easy to make, and that use common food items that you can easily find fresh at a store near you.
What Will Recipes Will You Discover?
The best food recipes for all-day energy.
Easy-to-prepare and tasty breakfast recipes.
Delicious energy-boosting snack recipes.
Lunch recipes that can be quickly prepared and eaten at home, school, or work.
The best chicken recipes.
Wonderful seafood recipes.
Delicious desserts.
Incredible beef and pork recipes.
Delicious dinner recipes.
Start eating like royalty while saving time and money!
Get your recipes: Buy It Now!