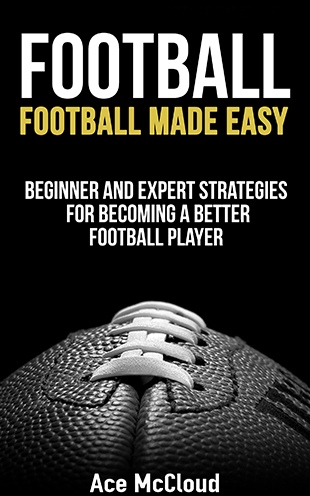 Do you wish there was something more you could do to help your team win? Tired of getting pushed around on the field?
Whether (1) you are just starting out, (2) you want to discover some new tactics to give you the edge on your competition, or (3) if you want to hone your mind and body to boost your skills to the next level, this book will teach you everything you need to know.
Remove those nagging doubts and take the field with confidence.
In a sport like football, you need to do whatever it takes to be at the top of your game, otherwise you may find yourself on the sidelines with an injury, wishing things had gone differently. Stop trying to guess at what you think is the best course of action and start doing things in a way that really gets great results! This guide will explain to you in full detail some of the best strategies, techniques, and life-style choices that can easily help football players excel – both on and off the field – and win more often!
Discover the best secrets and strategies to maximize your playing potential.
Football is a popular sport for all ages, but its competitive nature requires focus and dedication in several key areas, including football knowledge, physical conditioning, and mental focus. How far you take your skills is up to you. Much depends on how willing you are to commit to the discipline of hard work in order to develop your physical and mental skills. An exceptionally talented and determined player may even hope to make it to the top – the NFL– if he works hard enough!
This book is so effective that it can make a major difference in your playing.
Football is a high-impact game with major repercussions if you are not fully prepared, both mentally and physically. Learn key tactics to develop your mental toughness, especially in the heat of a game. Bring the best nutrition and physical training into play to equip your body to endure the rigors of competing at your very best.
Create a winning strategy!
The best way to stay ahead and reach your goals is to create a winning strategy off the field that will give you the competitive advantage. This book will show you exactly what you need to do in terms of your health, diet, physical training, mental toughening, and goal-setting to get you where you need to be.
What Will You Learn About Football?
Football basics, for those new to the sport.
How to stretch and warm up to reduce the chance of injury.
The best offensive plays to have under your belt.
Key strategies for a winning defense.
Highly successful passing routes.
You Will Also Discover:
Professional nutritional tips designed for football players.
How to properly set, pursue, and reach your goals.
The best strength training routines for football players.
Mental toughness tactics that give you the e.
Become the key player who helps lead your team to victory!
Start using winning strategies today: Buy It Now!