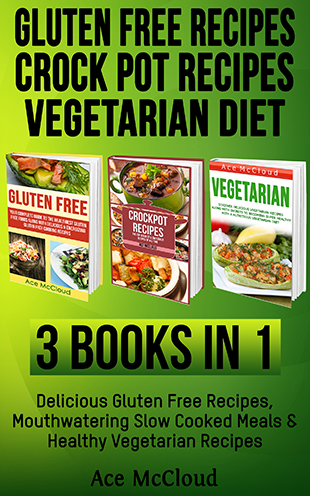 Do you suffer every time you eat bread, pizza, or pasta? Would you love to have delicious and healthy meals with little effort? Would you love to enjoy world-class healthy vegetarian recipes?
3 Books in 1: An unbeatable combination of the best gluten-free ideas and recipes, luscious Crock-Pot recipes ranging from breakfast to dessert, and scrumptious vegetarian recipes!
Whether you want to (1) explore a variety of healthy gluten-free recipes, (2) create delicious meals with little effort, or (3) just eat healthier, this book will teach you everything you need to know.
Discover the benefits of a gluten-free lifestyle!
Gluten-free living is straightforward and simple. Most individuals who opt for a gluten-free diet also notice benefits in the form of increased energy, clearer thinking, and weight loss. Enjoy delicious gluten-free meals for breakfast, lunch and dinner!
What Will You Learn About Being Gluten Free?
Exactly what gluten is and how it can affect you.
How to make a gluten-free breakfast that will fuel you for the day.
How to make delicious energy-boosting gluten-free snacks.
How to quickly prepare a gluten-free lunch for home, school, or work.
How a gluten-free lifestyle can boost your overall health.
Easy-to-follow cooking and preparation instructions.
How to easily remove the gluten from your recipes.
The most delicious gluten-free recipes from around the world.
How to cook gluten-free dinners that everyone will enjoy.
Cook for tenderness and flavor!
Discover the secret behind the marvel of slow-cooked meals: a sustained low cooking temperature and a sealed environment. The latter preserves all the delicious flavor and the former breaks down even the toughest fibers until they melt in your mouth! Once you've placed the ingredients into the ceramic crock and set the lid in place, the Crock-Pot does all the work.
What Will You Discover About Crock-Pot Recipes?
Recipes for beef and lamb.
Sumptuous breakfast and lunch meals.
Delicious seafood dishes.
Chicken and pork recipes.
Mouth-watering recipes for soups and stews.
Healthy vegetarian recipes.
Perfect pasta recipes.
The best dinner recipes.
Delicious dessert recipes.
Discover a better way to eat!
Eliminate the meat and still get all the protein you need. Discover foods packed with nutrients more easily accessed than the meats your body finds difficult to digest. A vegetarian diet has been proven to be incredibly healthy and great for energy and productivity.
What Will You Learn About Vegetarian Living?
The wonderful benefits of a vegetarian lifestyle.
The best ways to integrate vegetarian eating into your life.
The building blocks of a nutritious smoothie and how to make your own.
The top superfoods and how they support a vegetarian lifestyle.
How to easily cook a large variety of vegetarian meals.
Easy-to-follow cooking and preparation instructions for scrumptious vegetarian dishes.
Key vegetarian protein sources that are easy to come by.
Simple guidelines to ensure you receive all the nutrients you need.
Delicious recipes for increasing your health and mental sharpness.
Discover just how easy it is to enjoy healthy food that tastes great.
Eat like royalty: Buy It Now!