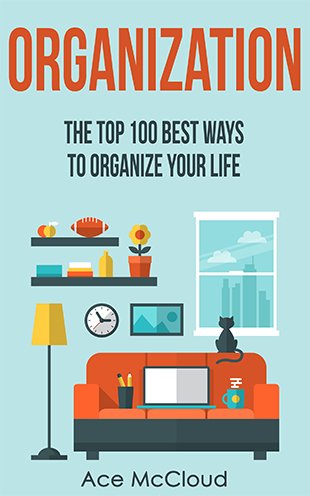 Are you overwhelmed by the chaos that surrounds you? Do you wish you had more productivity and peace of mind in your life?
Whether you want to (1) easily organize each area of your life, (2) regain your motivation and peace of mind, or (3) be happier and more productive, then this is the book for you!
Does all the clutter seem overwhelming?
Don't despair, because you can easily fight back against the chaos and once again take control of your life. Yes, you can tame the papers, computer, clothes, relationships and other intangible things that distract you from leading a fulfilling life! Discover the best strategies available to effectively organize each major area of your life! In this book you'll learn simple life hacks that will save you time, money and energy and can bring your life peace, health, productivity and more happiness. Discover how you can clear your mind and burst through the clutter to reclaim control of your life!
Rediscover joy in your environment.
You may be shocked to learn about all the negative side effects associated with a disorganized and disorderly life. Being chronically disorganized can affect your relationships and your mental well-being, as well as your physical health! In this book you will discover what you can do to put everything in its proper place so that you can have peace of mind and function on a happier and healthier level of existence. Once you are organized, be prepared to catapult yourself into the next and most exciting phases of your life. Yes, you can enjoy a life in which you are in charge and in control of your surroundings and environment!
Live in harmony with your surroundings.
It's hard to be focused on your goals when you're surrounded by too much stuff clamoring for your attention. Learn to get rid of what does not serve you and then cherish the things that imbue your life with peace and joy. Learn how to identify unhelpful triggers in your life and then strategically remove them one by one.
Tame the paper tiger and organize your digital environment.
Learn how to quickly and easily determine what to keep and what to throw away. Then discover the best ways to utilize use technology to organize your computer and digital devices.
What Will You Learn About Organization?
The best ways to organize each room in your house.
How to organize your computer and digital life.
How to clear your cluttered mind and embrace your inner happiness.
Organizing tips that will save you both time and money.
How to prioritize your relationships for maximum overall life happiness.
You Will Also Discover:
How to harness the power of minimalism to get rid of excess clutter in your life!
How to oorganize your daily schedule for maximum effectiveness.
The best ways to incorporate Feng Shui into your home.
How to create your own personalized action plan.
Free yourself and become the happy and organized person you were meant to be!
Bring order to the chaos: Buy It Now!