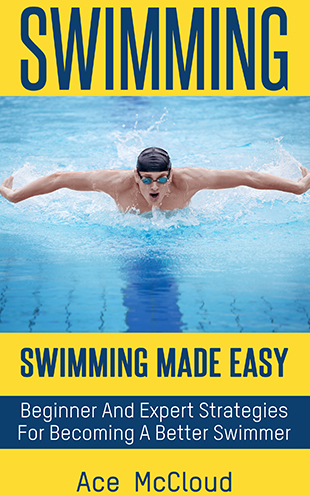 Are you tired of being a weak swimmer? Do lesser athletes continue to surpass you in the pool?
Whether you want to (1) learn the basics of swimming, (2) master advanced strokes or (3) get a powerful edge on the competition, this book will teach you everything you need to know.
Do you wish you could swim fast and look good at the same time?
No matter the stroke you choose, swimming is a complicated action, involving the coordination of many of moving parts, with breathing thrown in to add to the complexity. However, with practice, you can swim each of the main strokes with confidence, knowing that you are using the proper technique to propel yourself across the pool in the most efficient manner possible.
See how easily you can improve your stroke.
Whether you hit the pool for fun or are swimming with your eye on the competition, a little effort to improve on the technical aspects of your stroke can greatly enhance your performance and enjoyment of swimming. I have broken down each of the basic swimming strokes into small parts that are easily practiced, so you can focus on each critical detail of getting your stroke right. As you develop proficiency in your technique for each aspect of the stroke, I work with you, step by step, to combine these components into an effective and efficient swimming stroke. Before long you will have a fluid and efficient swimming stroke that is sure to improve your times.
Get all the benefits of increasing your swimming endurance.
Let's face it; it's no fun getting tired. The basic truth is that the more you actively swim, the better you will become at handling yourself in the water. At the same time, if you're looking to increase your strength and stamina in the water, physical conditioning is key. In this book you will find professional swimming exercises designed specifically to improve your ability to swim for endurance, while optimizing you're breathing and developing the muscle strength and energy essential for you to be a swimming powerhouse.
There are certain foods that give swimmers the edge.
Normally, we don't consider eating as a part of swimming prowess. However, as every athlete knows, what you put in your body makes a huge difference in your energy levels and your ability to perform. Whether you're swimming for the fun of it or training for the next competition, you need the right fuel to perform at your best! In this book you will discover some of the best foods to eat in order to train and swim with power and energy. Nutritional guidelines are also included along with valuable energy-boosting recipes that are sure to give you an advantage both in and out of the water.
What will you learn about swimming?
The four basic strokes and how to master their techniques.
How to have your arms, legs, torso, and head work in perfect unison for each stroke.
Relaxation techniques for boosting your swimming proficiency.
The best ways to start a race, including diving and bursting off the wall.
How to effectively reverse direction with flips, turns, and glides.
You Will Also Discover:
How to progress from a basic swimmer to a powerful one.
Tips for handling yourself outside the pool in rough water.
Strategies for boosting your mental toughness for competition.
How to swim smoothly and powerfully in the water.
Stop guessing at what works and start swimming like a pro.
Swim better now: Buy It Now!