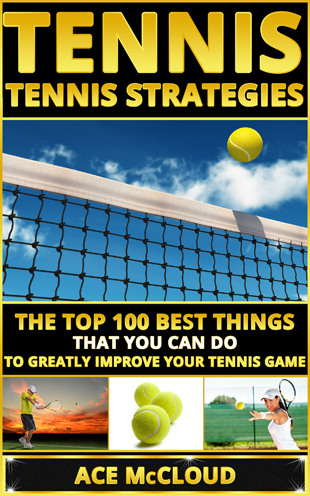 Are you tired of losing on the court? Does your blood boil each time you mis-hit the ball?
Whether you want to (1) improve your playing technique, (2) get solid conditioning and training advice, or (3) just win more and have more fun, then this is the book for you.
Is your tennis game less than a smashing success?
Whether you're just beginning to play or you're doing competitions, you'll find practical help in this book for every aspect of your tennis game. Forehands, backhands, the serve, and the overhead smash: all are described in full detail so that you can easily start practicing the correct techniques. Discover what's holding you back and correct it. Tennis is so much more fun when you are playing the correct way.
Get a grip on your success and see how easily you can play better and enjoy the game more!
The foundation of successful tennis playing begins with getting a grasp on your racquet, quite literally. In this book you will find descriptions for each basic type of tennis grip, including strengths as well as weaknesses, and you will discover how to use each to your advantage. Straightforward instructions and practice exercises enable you to master the grips that will lay the foundation for effective playing. Master your grip and you will be well on the road to success.
Consistently take the shot with confidence.
Learn to use your stance, the pivot, full extension, and accurate timing to your advantage. Each aspect of both forehand and backhand hitting is described simply, so you can easily know how to hone you're playing technique. Perfect each of the six actions that take place when you serve. and gain a new edge on your opponents. Use easily-mastered practice exercises to strengthen you're playing, so you'll be able to shine when you play for real.
Sharpen your playing strategies and boost your mental focus.
Whether you're hitting the court with friends or work colleagues, playing at your local tennis club, or competing in tournaments, tennis becomes even more enjoyable when you have a reliable technique and strategies that help you control the game. Take advantage of highly effective recommended playing strategies. I have also provided a host of conditioning exercises that you can use to hone your physical strength and endurance. At the same time, you will discover more than 30 practical strategies from which you can glean the best mental fitness training out there.
What will you learn about tennis?
The secrets of the tennis grip and how it can dictate the type of shots you can make.
The best foods and supplements to take for better game play.
How to dominate your opponents with a powerful and reliable forehand shot.
How to hit a fearsome backhand, just like the professionals.
How top-spin can give you a competitive advantage.
You Will Also Discover:
How to develop a powerful serve.
How to stay physically fit and at the top of your game.
Strategies that give you the edge in doubles play.
Psychological strategies that will allow you to dominate your opponents.
Find out how far your game will take you.
Play Better: Buy It Now!