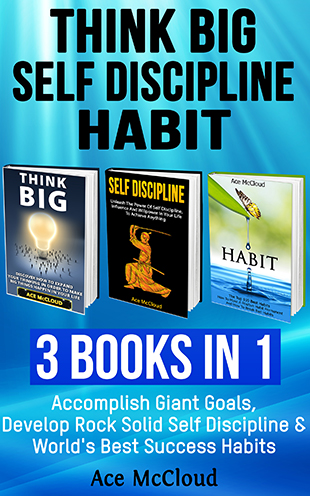 Do you ever wonder what you are truly capable of? Do you long for more in control of your life? Do you wish you could find an easy way to make good habits permanent?
3 Books in 1: An incredible combination of ways to think big, strategies to increase your self-discipline and the top 100 best habits of all time!
Whether you want to (1) create Big things in your life, (2) increase your willpower, or (3) start using world class success habits, this book will teach you everything you need to know.
Turn your big dreams into reality.
Discover the incredibly powerful magic of thinking big. Included is step-by-step guidance on how to turn your big idea into something that exists in the real world. Stop aiming for average goals, start thinking of big things that will really make a BIG difference in your life! The ability to think big is a common trait of many of the greatest people who have ever lived and it has been proven over the centuries to have incredible results!
What Will You Discover About Thinking Big?
The magic that happens when you Think Big.
How to gain the confidence you need to realize your big idea.
Powerful ways for training your mind for automatic success.
How to work smarter, stay motivated and transform every obstacle in your path.
How to develop a powerful work ethic based upon world class good habits.
How to create your own 30-day strategy action plan.
Inspiring true life stories.
How to get others to help you accomplish your big goals.
Powerful morning rituals for starting the day off right.
Maximize your potential for success.
Employ proven self-control tactics and world class strategies to achieve excellence in your physical and mental health, the management of your finances, the shunning of addictive substances, and the skillful management of your time.
What Will You Learn About Self-discipline?
Why self-discipline is the most valuable trait you will ever possess.
How self-discipline can help your health, finances, time management and strategic planning.
How self-discipline can be used to increase your influence and your persuasiveness.
World's best strategies for increasing your willpower and self-discipline.
The best ways to recharge your willpower and self-discipline.
Mental self-discipline strategies used by great leaders around the world.
How to get things done even when you don't feel like it.
How to make self-discipline a permanent winning habit in your life.
Harness the awesome power of habits to fuel a successful life!
Let new beneficial habits effectively replace old harmful ones. Easily adopt key habits to strengthen each of the six major areas of life. Use the power of positive habits to counter even the strongest temptation trigger!
What Will You Discover About Habits?
How to make good habits permanent.
The top 100 best habits of all time and how to incorporate them into your life.
How to easily replace bad habits with good ones.
The best habits for strengthening your relationships.
Incredible habits for improving your finances.
Habits that peak performers regularly utilize in their lives.
Habits to improve your physical and mental health.
How to get rid of your worst habit once and for all.
Keystone habits that will set the stage for you achieving massive success in life.
You only live once! This is your chance.
Take action: Buy It Now!